I'm going to cut the chase and say it. Some of the best calamari I've ever had was served at BESA Detroit. An upscale dining experience nestled at intersection of Congress and Woodward Avenue in Downtown Detroit. This is saying a lot being that I'm from Florida with access to tons of fresh seafood at any given moment. My experience of the overall cuisine quality, service, parking, and reservation requirements of BESA Detroit. Keep reading.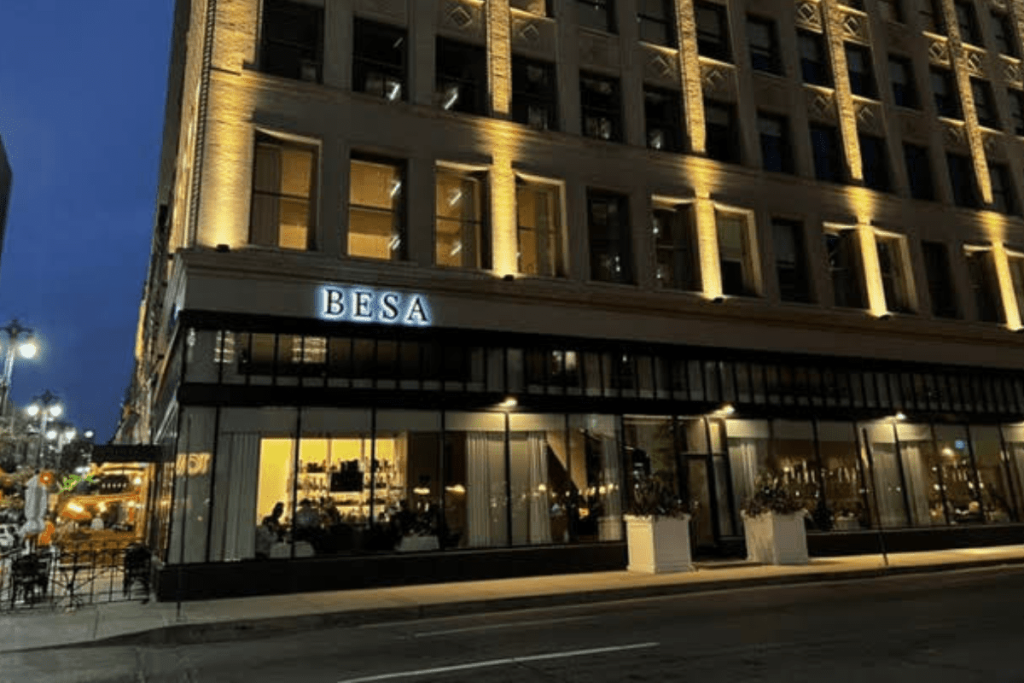 Besa Detroit A Site to See
I was raised in the sunshine state of Florida. However, I am a true Detroit native. I have the SSN to prove it. Truth is, this is my second time visiting BESA. My first experience was so good I'd been craving to come back. It was a priority to visit during my recent short stay in The Motor City.
The ambience and upscale decor of BESA is modern and simple yet luxurious. Upon entry, a large bar sits to the right, a small sitting area to the left, and the main dining area is just beyond there. Decadent light fixtures hang from the ceiling and crisp white linens adorn each table. You have the option of a chic rounded booth or a table and chairs. BESA is designed for a grown and sexy experience.
Depending on your table; it is not unlikely to see people walking the streets and catch silent views of the hustle and bustle of downtown traffic. This spot truly defines Detroit in her glory.
Downstairs is additional intimate dining and a wine cellar. Unfortunately, I did not take the journey down the stairs so I am unable to give insight.
Reservations and Parking
I'm not 100% sure if reservations are required. However, I had a reservation both times I went and was immediately seated. To be safe. Get a reservation.
Parking is a different monster. BESA sits at one of the most busiest intersections Downtown. No street parking is allowed.
There are several parking garages and lots within walking distance. We managed to find a lot for $10 behind the building and walked to the next corner. If you're staying in the Downtown area, ride sharing is the better option.
Dress Code
The Dress code is business casual. However, they will not turn you away at the door should you show up in jeans and a t-shirt. Literally. My first go round I wore a faux fur, see-through blouse, jeans, and heels. This go round, a rocker graphic tee and Dunks. I was not looked at any differently per visit.
BESA Detroit Cuisine, A Wondrous Experience
BESA's cuisine style is a self proclaimed "Taste of the Adriatic Experience". A mediterranean love story is what I'll call this menu, enriched with fresh seafood, veggies, and sauces. You're eating out but there are enough healthy factors to where you don't feel like you're "cheating" on your diet. Everything offered is filling yet light.
Although it is fine dining, the price point is exceptional. The most expensive entree is $45.00. If you're into wine, the price point is vast and exclusive. They offer Bond, St. Eden, Cabernet Sauvignon, 2014 for 1100.00 per bottle. Luckily for me, I didn't come for the wine.
What a Three Course Meal and Cocktail is Like at BESA Detroit.
Vacation Mode Cocktail
Rumhaven coconut rum, ramazotti, lime juice, san pellegrino. If I had to describe this drink, it was like a Pina Colada not frozen.
Not only was the presentation beautiful, it was refreshing and not overpowering. The perfect cocktail before dinner.
Rhode Island Day Boat Calamari.
Fennel marinara, lemon. Fresh, lightly fried, and airy piled on top of a delicious marinara sauce. The very thought of this dish has my mouth watering. It simply melted in my mouth.
It was not rubbery, and not the least bit tough. This was as close to perfect as calamari can get. It's exactly how calamari should taste. Being that i've gone twice and it was a hit each time, I'm willing to stand on this being in my top 5 of calamari.
Caledonian Blue Prawns
Chili and herb marinated, quick cured cucumber, coriander yogurt, Turkish chili crisp. Although this dish is on the smaller size, it packed a hell of a punch when it comes to flavor. Slightly spicy at first, the dollop of yogurt offered refuge from the heat when mixed.
The acidity from the cucumber made this a well balanced and pleasing dish. I'm not a huge fan of head on shrimp. However, this dish was not only pretty it was easy to maneuver and delicious. Please note, if you're on the hungrier side this is not going to be your "filling" dish.
Green Beans
Saba, shallot, basil. Blanched and slightly charred, this is one of those dishes that you're not sure about at first bite. But once the flavors finish making love in your mouth the entire dish is devoured.
Labneh Cheese Cake and French Press Cafe
Citrus glazed blueberries, almond windmill cookie crust. I normally pass on dessert. However, my dinner was so light (yet filling) This creamy mix of labneh yogurt was topped with a fresh citrusy blueberry syrup.
The crust was compiled of old school windmill cookies. If you're from Detroit; you know about the windmill cookies your granny used to have in the cabinet. Needless to say this cheesecake is marvelous. It was paired with a small cup of espresso which made it even better. The espresso was phenomenal.
Service at BESA Detroit
I honestly can't remember our server's name she immediately admitted she was newer and didn't really give much detail to questions asked. She forgot to put the green beans in with the initial order and was a bit delayed with checking in on our experience throughout the course of the meal. Luckily the food made up for any lack, where none of these factors mattered.
I'm certain this is not the standard, whereas my first experience was the complete opposite.
The first go round my waiter who was a male (really bad with names) was amazing and knowledgable about each item on the menu. He was aware of everything! From the cooking process, down to how certain meats were aged prior to cooking. He was a class act server; honest, prompt, respectable, and charismatic. Overall I will give the service a 4.5 out of 5.
Final Thoughts
Anytime I'm in Detroit BESA will be a contender for places to eat. Luxe, chic, and delicious this location is a class act when it comes to a foodie's delight.
It should be noted that BESA offers a seasonal menu; therefore, the items noted may not be around for your visit. However, I'm certain whatever they offer will be that of satisfaction. Should you go, let me know what you think.

-Ash
Related Articles
Brunch | Tulua Bistro Jaksonville Beach, Fl
Lunch | Estrella Cocina Jacksonville, Fl
BESA, Fresh and Extraordinary Cuisine In Heart Of Downtown Detroit.